Ladies League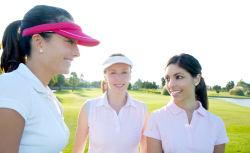 The goal of our Ladies League is provide a place where women can learn the game of golf, improve on their game, as well as enjoy golf through a fun, and an optionally competitive environment. Our league is composed of beginning golfers as well as seasoned golfers with a wide range of ages, making it diverse and FUN!
Our Ladies League meets on Wednesdays at 5:30 pm for 9 holes beginning April 19, 2015 and runs through August 16, 2017. If 9 holes isn't enough, a group of the ladies meet at 3 pm and play 9 holes ahead of the league. Registration is $100, which covers your GHIN handicap service, weekly and year-end banquet & prizes. The weekly 9 hole greens fee with cart is $24. If you're playing 18 holes the green fee is $34. Click here for our Ladies League 2017 Rules & Registration form.
Our Meet & Greet kickoff meeting for the 2017 season is scheduled on April 5, 2017. Call or email Maureen or Cheryl to RSVP.
For more information, contact Cheryl Howard cheryl.howard@stcincs.com or Maureen Schott maureen.schott@gmail.com