Men's Club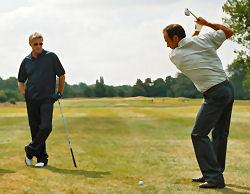 Our Men's Club offers a social yet competitive and exciting avenue to play the game of golf! The Men's Club members play 18 holes every Saturday morning from April through September and offers a 9 hole skins game on Tuesday evenings. The Men's Club members have the opportunity to compete in Match Play Events, 2 Day Tournaments, Club Championship and other special events at The Falls.
If you want a private club type league…join our Men's Club! With over 90 members in the Men's Club, it is the best public league in town at a small cost. Whether you need competition or need to have fun, this is the perfect league for you!
For more information, contact Jon Prange at 636.240.4653 or email at proshop@fallsgolf.com.
There will be an Introdction and Orginizational Meeting held on March 24, 2017 at 5:30 in The Falls Clubhouse.
Men's Club 2017 Events
April 22 Regular Season Begins
May 6 ABCD Best 2 of 4 Ball Tournament
May 20 2-Man 6 - 6 - 6 Event
June 10 Stableford
June 24 2- man best ball event
July 15&16 Team Championship
August 12 ABCD Best Ball Twister
September 9 & 10 Stroke Play Championship
September 30 & October 1 Presidents Cup
2017 Men's Club Rules and Handicap Info: Click Here
Men's Club 2017 Tentative Match Play Deadlines
Deadline will be adjusted based on how many matches are being played in each division.
1st Round Completion - May 27th
2nd Round Completion- June 24th
3rd Round Completion - July 29th
4th Round Completion - August 26th